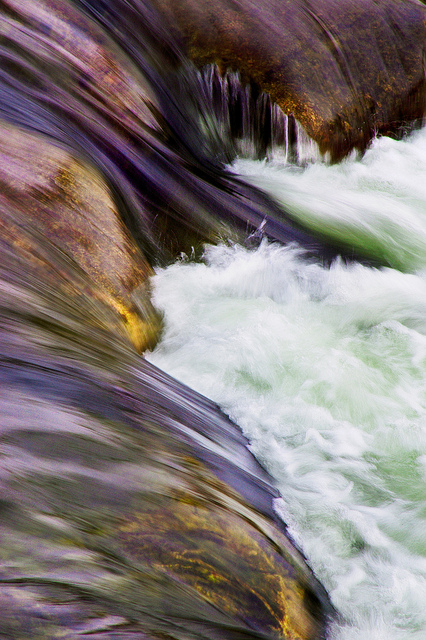 Albert Einstein once said "Nothing happens in the Universe until something moves."  The Laws governing abundant flow in our lives are very much aligned with that principle. For flow to occur in our lives, we must allow flow and an easy first step is to initiate the flow with an outgoing gift.
Anonymous Giving
Spiritual teachings of many cultures emphasis the importance of giving in an anonymous way. Anonymous giving, or what is sometimes called "Righteous Giving" in Christian teachings or "Perfection of Giving" in Buddhism is a form of flow with no strings attached – no expectations of reciprocation and free of wrong motivation. If we expect reciprocation, is it truly a gift? If we expect to be honored for the giving we are feeding ego and thus not giving in the highest intention. If you are looking for status or prestige, check your motivations.
Matthew 6:1-4, "Beware of practicing your righteousness before other people in order to be seen by them, for then you will have no reward from your Father who is in heaven. Thus, when you give to the needy, sound no trumpet before you, as the hypocrites do in the synagogues and in the streets, that they may be praised by others. Truly, I say to you, they have received their reward. But when you give to the needy, do not let your left hand know what your right hand is doing, so that your giving may be in secret. And your Father who sees in secret will reward you."
Sufi sheikh Kabir Helminski states: "The Prophet Muhammad said, 'the best of my people will enter paradise not because of their achievements, but because of the Mercy of God and their being satisfied with little for themselves and their extreme generosity toward others.' "

Detachment
We give it with the highest intentions and completely let it go.  If we hold expectations on the gift, in a way we are still attaching ourselves to it, have we really given it away?  By releasing attachments and expectations we are allowing Divine Spirit to lift the end results to higher levels than we could ever anticipate.  Attaching expectation is a "My way or the highway" mentality, and who are we to judge what the recipients best interests really are? They know their life needs better than we do and certainly so does the Divine.
You may find it helpful to say a little prayer of intention and release as you give.
"Diving Loving Spirit, I am eternally grateful for the abundant flow of good in my life and the opportunity to share the good with others.  I release this gift into your Loving Guidance knowing that the highest and best possible outcome is unfolding right here, right now.  For this I say thank you God. Amen!"
To be in the flow it is vital to be open to the many ways you can receive.   Being in the receiving position of flow shows up many ways you may not have previously viewed as Divine Flow. When that co-worker offers to buy you lunch, accept it!  Someone offers to pay you for gas in exchange for a ride, accept it.  When we refuse these gifts we are creating two powerful blocks to flow:
We prevent the other person from experiencing their highest potential for flow.

We are telling consciousness that we don't want flow in our lives.
By limiting others giving to us, we stand directly in the way of their choice to be fully in the flow.  They want to give and we are taking that away from them. Accepting their gift is not placing a burden on them, but rather providing them with joy.  If you are triggered by receiving, change your mind. If not for yourself, at least do it for them.
Once we open to receive, greater things will come to our attention.  Not because new things are there – the abundant flow has been there all along, but because we have begun the process of aligning our consciousness with flow. We awaken to see now what we did not see before.  By refusing to receive we tell our consciousness that we choose to step out of the flow – that we no longer wish to see the abundance of good that is always present, just waiting for us to open our hands and arms to receive.
Here is a wonderful metaphor that exemplifies the power of shifting awareness:
Driving home from the auto dealer you become amazed at just how many of the same model of car there are on the roads. They seem to be everywhere and you wonder why you had not noticed them before.  As you ponder this you pull onto your street and discover that the family two doors down has one in their driveway and it's been there all along.
If you drive, the chances are very good you have experienced something very close to the example. This is shifted awareness. Now that you are consciously alert to the model of the car, you see them where you had not seen them before.  This is just the way our minds work. Seeing opportunities in life such as flow is no different.  Change your mind, change your life.
If you are ready to see greater good in your life, actively start the ball rolling. Move something in the universe and be open to receive.
Some simple anonymous gifts:
An envelope with some cash or a gift card mailed to a family experiencing lack with a nice unsigned note.
Donation / Tithe to a spiritual center that spiritually feeds you or someone you know.
The Starbucks Effect: Pay for the coffee or meal of the person in the drive-through behind you.
Visit department stores and offer to pay towards the lay-away of needy families. The clerks will often have an idea of who might be the most ready to receive.
Share your ideas for conscious and anonymous giving in your comments below!