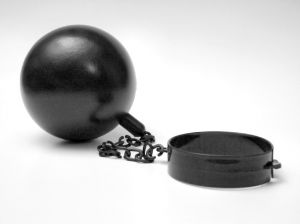 We all have it. Stuff. Things. Material goods.  Every item in our life has amazing potential power you may not be aware of.  Things in our lives have the power to serve us in ways that can enhance our present state of being, and they have the power to suck the life out of our day.  I invite you to think about it this way: If the item makes your life easier it is serving you. If the item burdens you, you may be serving it.
It started harmlessly enough, with a seasonal cleaning of the garage.  After the fifth or sixth time of stepping over a pet travel crate I began to get frustrated with the entire ordeal – I had been stepping over and around this thing for months. When I get frustrated I know it's a sign for me that I am either bumping up against my own limiting thoughts, or a blockage of flow.  In these cases I have a ritual that helps me:  I take a gentle deep breath and drop my attention to my heart space. I feel the love in my heart and I ask for Divine guidance.  In this I was quickly reminded of the question: "Is it serving you, or are you serving it?" from a chapter in the book The Prosperity Paradigm by friend and once-upon-a-time mentor: Steve D'Anunnzio.
The concept is simple really. If something in your life either saves you energy or provides you ease, grace or joy, it is serving you by increasing your quality of life. If something requires more energy to maintain than is saved or returned to you, then you are serving it.  If that's the case, it's time to consider letting the item go as it may no longer serve a true legitimate purpose in your life.  Whatever our "stuff" is, it took energy and resources to create it and now that energy can be sitting stagnant on your shelf, drawer, closet or garage floor.  Get it back in the flow where someone who can be served by it is waiting.
Albert Einstein once said "Nothing happens in the Universe until something moves."  The Laws governing abundant flow in our lives are very much aligned with that principle. For flow to occur in our lives, we must allow flow. This includes both incoming and outgoing flows.  By initiating an outgoing flow we make room in our lives for the incoming good.  If we want more good in our lives, we can start by releasing that which no longer serves us.  This frees us from carrying the burden of the old and opens our awareness and our environment to be aware of and receive the new abundant good.
If you are ready for more abundant good in your life, find that which no longer serves you and release it.
If there is something constantly taking your resources to maintain it or work around it. Why keep putting up with it?
That dog carrier? It went to a good home – a young lady on freecycle who needed a way to get her rabbit to the vet.  Other bags, boxes and clothes went to charity so they could leverage the benefit for someone else's needs.
Here are a few resources:
Non-profit Thrift Stores
http://www.arcthrift.com/
http://www.salvationarmyusa.org/
http://www.goodwill.org/
Homeless Charities List
http://en.wikipedia.org/wiki/Category:Homelessness_charities
One on One giving