I'm fighting the urge to call this The Tale of Two Kitties.  It was the best of times, it was the worst of times…….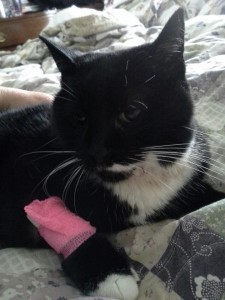 We currently have two cats and a dog.  We lost a cat earlier this year and recently decided that the time was right to get another cat.  Tao, our existing cat, is a lovely little creature who never learned to be a lap kitty.  She was originally a stray and still maintains that "I can fend for myself" air about her.  She used to like to run the hallway and stalk the other cat but since losing him, she's not done much of the running and obviously, no stalking.
We thought maybe a new cat would be a bit more cuddly to us and would give her a playmate.
Well, it hasn't worked out quite as we had imagined.
We found a seven month old cat whose family turned up allergic to him.  He's very sweet.  He wants to sit with us and be in the same room with us.  He's very social and misses us greatly when we're not around.  And Tao does not like him.
Tao is the princess cat.  She has that air of royalty that is entitled but doesn't get her hands dirty.  And she's always been the Alpha animal.  Since the day we brought her home, she's been the ruling animal personality in this home.
Stitch, the new cat, doesn't understand that she's the Alpha and he's making a serious play for the position.
The position isn't open and neither one of them can make the other understand that.
But here's what has struck me:  In a very real way, Stitch has claimed the dominant role.
Stitch doesn't realize it yet.  He's still trying to engage her in a battle.  He spends a great deal of time looking for her and watching her and then plotting his attack.  He waits until we're out of sight before making his move.  It's difficult to reconcile the very sweet, wants to be loved cat with the mastermind who has figured out how to get to the other cat.
Meanwhile, Tao spends her time growling at his intrusion into her world.  She spends a lot of time under the bed, or under the table, huddled into a pissed off ball of fur.  When engaged by Stitch, she lets out this unholy scream of indignation that lets everyone know that not only has her bubble been breached but she's not going to stand for it.
It's a very interesting dynamic that has become all consuming.   If they are in the same area together, they are stuck in this drama and thus, so are we.  If Tao would concede her authority, she'd figure out how to play with him and would have a companion.  If Stitch would stop trying to take the authority, he'd find himself with a friend and someone to share the toys with.  For all intents and purposes, Stitch is dictating the relationship right now and with that, has gained the upper hand.  But he doesn't see it.  And so the cycle continues.
Neither one of the cats is fully happy.  Even though they have a nice home, with clean litter boxes and good food that they didn't have to buy, open or catch, they are not happy.  They are consumed by the other one's presence.  It's blocking their ability to see and appreciate all the wonderful things in their world.  And it's blocking us from being able to give them even more love because we feel apprehensive and divided.  Which, of course, they pick up on and are quick to act on.  It's a really vicious cycle.
If either of them realized that that their world would not change no matter who "has the power" , maybe the title wouldn't matter so much.  They both will still be fed at the same time by the same hand in the same house.  The toys, beds, cat perches are all still available to them.  They are safe and warm and tended  to.  But they cannot see it because they are so busy suffering their positions.
This situation has made me wonder what similar situations could be in my life.  Where am I stuck in a dramatic power play that is taking over my thoughts and energy?  What relationships have I decided should go a certain way?  And if that relationship doesn't fit 100% into what I think it should look like, am I plotting and harassing my way through it? Or am I screaming with indignation?
If I were to realize that power is an illusion and claim the reality that my world doesn't really change if I change my stance, what could my relationships be?
Something to ponder.
"It was the best of times, it was the worst of times, it was the age of wisdom, it was the age of foolishness, it was the epoch of belief, it was the epoch of incredulity, it was the season of Light, it was the season of Darkness, it was the spring of hope, it was the winter of despair…"