Okay, so we chatted about how you have to BE something before you can HAVE it.  We received a response requesting some ideas as to how to handle the challenges.  I'm going to go there in a future post but for now, let's really dissect the trouble, okay?
Sometimes, I think, we make spiritual stuff harder than it needs to be and we get frustrated with it because there's not an end point we can shoot for.  (Okay, full enlightenment is great, but I would be happy with making it through the day without thinking bad thoughts about someone else.)  It's really easy to think "my goal is to be nice to everybody, all the time" than it is to live it.  And when it gets too hard or too frustrating to try and think in an enlightened way, we use the guilt and shame as whips against our souls.  Then we affirm that OBVIOUSLY we're not worthy of the good in our lives, so why try.  Okay, I shortened the process here for the sake of space, but I think you get the gist.
I'm going to liken spiritual learning with something that most of us know a lot about — changing our diet and/or eating habits.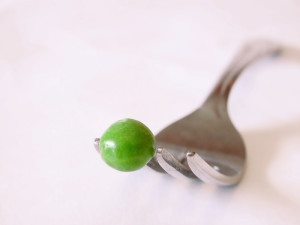 When you first decided that you were going to "change your ways" as far as the food you put in your body, do you remember how you felt?  Excited, ready to learn, eager to seek support and more information, and maybe a little apprehensive.  There was so much to read and learn and think about that thinking about food/snacks/can have's/can't have's became all consuming.  It's all you thought about and all you talked about.  If you're not eating, you're thinking about the what and the when of your next snack.
I remember when John and I went off of sugar.  The first days were terrible!  My head hurt, my body hurt and I was just generally cranky.  Going out of the house was a true test.  I remember clearly standing in line at the grocery store shocked by all the walls and shelves lined with brightly colored ads for sugary items.  So, did the grocery chain find out that John and I were off of sugar and put all of those items in front of us to tempt us or to trip us up? (John says, yes, they did.)  No!  Those things were already there.  I just had not ever noticed them to that degree before.
So, let's go through my analogy a bit more:
My head hurting — Total entrainment with my previous thought pattern.  My human mind was trying to help me to see the error of my ways and convince me that I would feel better if I'd just give up these highfalutin ideas.  Eating had come easy all of the previous years of my life, why give that ease up now?  This new path is hard and I'm tired.
My body hurting — If the mind can't get you back, the pressure of the many will!  I'm going to equate my body to the tribal teachings (societal agreements) that we've all bought into as truth.  My body didn't agree with the mind's choices and was willing to take some low blows to make me come back into the pack.  That's how tribal teachings work — you go against the flow and you pay the price.
And the crankiness, oh, let's not forget the crankiness —  It's HARD changing your ways.  It's hard going against everything you understand.  It's hard and everyone should understand how hard it is!!!  It's time consuming and frustrating and …. oh you get the picture.
Now, here's the part that gives you hope.  While the first few days were horrible, the horribleness didn't last.  Eventually, the steps became easier to follow and we weren't fighting against this new way of being.
Here's where you ask yourself if we're still off of sugar……….  I'd like to say yes, but I'd be lying.  However, we did learn a lot about ourselves and what to eat and what not to eat during that stint.  Some of the habits we have today stem directly from that particular diet.  So, did we "fail" in our attempt to enlighten ourselves?
I say, no.  Enlightenment can come to some in an instant (or so I've read) but I believe it's more of a journey.  Are we eating better because we went through this diet process?  Yes.  Did we learn a few things that we'll always remember?  You betcha!  For us, the learning is cumulative.  Each time we change our eating habits, more ideas make sense and are easier to follow.  Spiritual learning is the same way.
The more you study, the more willing you are to look at, practice and TRY to learn a better way, then more sticks with you and makes more sense to you.  One point from a book connects with a talk from a spiritual leader connects with something you hear from an unlikely source.  It starts settling into your understanding and you find that you're not fighting against this new thought process as much.
So, understand that the challenges don't come up because there's a "test" or a lesson from the Universe.  The things we label as challenges were already there — we were either blind to them or we stepped into them without notice.  By deciding that you are going to think in another way and act in a higher way only sheds light on the things in your life that no longer fit in your new mindset.  They must be dealt with and released before the "new" way of thinking becomes easier.
In the meantime, enjoy learning something new, stay in the excitement of possibilities and let go of the apprehension.
Make sense?  Okay, next time — how not to get stuck in your stuff……..