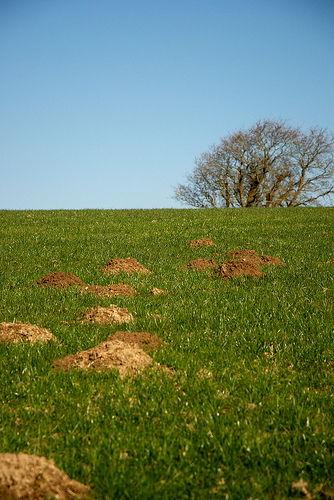 Over inflating our responses can become such a distraction, we fail to see the truth of the situation.  When we step away and allow ourselves to see conditions from heightened clarity, we are in a much better place to make good decisions from an empowered space. Here are six useful ways to stop making mountains out of those molehills.
1) It's only big if you make it big, so stop making it bigger than it really is: One man's hill-side is another man's mountain-side. The difference is perception. If one had only lived on flat ground, then a 300 ft. high hill might appear mountainous. On the other hand, growing up in the Andes on a 14,00o ft. peak, a man might think of a 5,000 ft. peak as a simple hill. In neither case did the size of the hill change, only the perception of it's size, and perception is a creation of the human imagination. Change the way you think and you change size of the obstacle. Even the largest mountain is traversed one step at a time.
2) Stop stacking it on: When we see a small obstacle as a large one, we sometimes begin piling new obstacles right on top that give us "excuses" for not moving forward.
Fear leads to inaction
Lazyness leads to inaction
We gather evidence that "excuses us from action"
Guilt develops for not dealing with it right away
Frustration as deadlines loom
More Guilt – for lack of action
More Fear – now that it's bigger
More Frustration – "Now how will I EVER deal with this?"
3) Commit to stop seeing obstacles as problems and begin viewing them as "projects": Any obstacle can be overcome when steps are taken — just like it takes a series of steps required to complete a project. When we label something as a " problem" we put an imaginary burdening weight on it that can freeze us in our tracks like a deer in the headlights. Start viewing it as a project and the freezing oppression is allowed to fall away. Then our thoughts and efforts are available for motion.
4) Take action in a constructive direction – any action. Just MOVE: Don't wait for the perfect plan to fall into place. If there was such a thing as a perfect plan, it wouldn't stay perfect for long anyhow. As we move through the "plan" unforeseen changes are going to arise and alter our course. Knowing this allows us to expect change and this tells us we must remain flexible. And knowing we must be flexible allows space for us to stay out of panic when changes arise. Anticipate change and you have nothing to fear. So stop nit picking a plan and just move! As long as you have forward motion, it will work it's way out however it needs to regardless of any "planning" you might do. Cease motion however, and the molehill will continue to expand.
5) Stop the whining. Complaining serves only to tell yourself and those around you that you are too weak to change the situation. After all, if you actually had the power to change things, wouldn't you be putting your efforts into actually changing it? Complaining does nothing but deepen your conviction that something is not going your way and you are powerless to effect change. You DO have the power to change, so empower yourself! Stop complaining and put your mental and physical resources towards a constructive outcome. Constructive behavior leads to smaller hills. Destructive behavior just makes bigger mountains that YOU eventually get to traverse.
6) Multitasking is a myth. We can only focus on one thing at a time. "Multi-tasking" or what I am coining in this very post as: Scatter-Braining™ is merely shifting focus from one task to another and back again – never really putting your best efforts into either one. It's like trying to run up two hills at the same time, only you have to run back and forth between them to make progress. Just wasted effort. Pick the hill that requires your attention and focus focus focus. When your mind gets going, the mental momentum will build and tasks will get accomplished faster with greater efficacy. Keep flinging your focus around like a sloppy mop and if things do get accomplished, you may find that the efforts don't meet expectation and you have to revisit them to clean up the spatter. This just means more work and that equals a bigger hill.