Congratulations, person who wanted to be mean and hurt my feelings.
You were successful.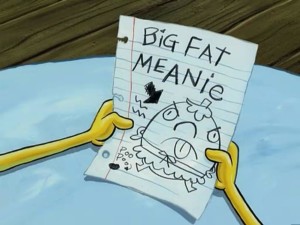 Your comment about me to my boss not only hurt my feelings, but made me question myself.  And made me cry.  Not the Ugly Cry but tears, nonetheless.
You took a day that was going better than average and turned it on its ear.
I've been doing what I do for a really long time.  To say that I'm comfortable in my abilities and social skills, would be an understatement.  But when I receive out of the blue comments about my less than great attitude or my unwillingness to be helpful, it throws me off my game for a bit.  To my benefit (and the benefit of those around me), my age and the spiritual work I've done allows me to bounce back pretty quickly.
There is a musing I heard quoted (I don't have the original quote) about if you are going to suffer, then SUFFER.  The inference is that you need to really feel the hurt and the pain and move on.  Don't dip your toes in the suffering pool a little bit at a time and prolong the agony.  Jump in, feel the feelings and get the heck out!
We've all heard the Buddhist proverb "pain is inevitable, suffering is optional."  I think we've even used it several times in this blog.  Living life hurts, but you don't have to suffer the hurts longer than you want to.
From BUDDHIST SANGHA OF SOUTH JERSEY
First Noble Truth – Right Understanding

The Path begins with the Right Understanding of the Four Noble Truths:

· There is suffering in life.

· Suffering comes from ignorance which leads to craving, grasping and clinging.

· We can become free from suffering and achieve happiness.

· The way to become free from suffering is the Noble Eightfold Path
I like the first point a lot.  Because as much as I would like to claim that I am above choosing to suffer the pains in my life, I'm not.  Sometimes I sit back and lick those wounds over and over.  Was there something I could have done differently, better, that would have let me escape the sting?  The first point clearly states — there is suffering in life.  It happens.  Denying the suffering doesn't help anyone.
Point 2 – suffering comes from ignorance which leads to craving, grasping and clinging.  Oh!  Sound familiar?  If I'm suffering from words spoken, then I'm the only one suffering.  The person who spoke them has moved on.  They are not suffering.  I'm in ignorance of the motives and standing in conscious ignorance to my own higher beliefs.   I'm left craving answers, grasping at the what-if's and clinging to my injured ego.
Wounded people, wound others.  Angry people share anger.  Misery loves company.  For some reason, humans try to hurt each other but it is my REACTION to the pain which creates my suffering, not the event itself.  When I rise above my emotions and clearly see the other person in this situation,  I can see that they are unhappy in their world and desperately trying to defend their actions by putting the blame on someone else.  I'm not discounting their comment– maybe I was snippy to them once — but why wait YEARS to provide this feedback?  If you want to be helpful in providing feedback, it should be timely and clear.  By waiting so long, they are now evidence gathering as to why they are "right" in making the decisions that they are making.
Point 3 – we can become free from suffering and achieve happiness.  I could choose to carry the hurt for the rest of the day, week or month.  There is a high likelihood that I will see this person again.  How long do I feel justified in carrying my hurt?  I could be cold in our next encounter — but doesn't that just confirm their opinion of me?  They will probably have forgotten their words and only  remember the feelings.  My being hurt and miffed in their presence isn't going to clear up the situation one bit.
John & I were just talking about the analogy of suffering being like someone throwing garbage in your car and you refusing to clean it out.  You drive around with this smelly, awful mess — suffering the whole way — and they don't even remember throwing trash in there.  I choose to release the suffering and thereby free my energies up to be happy.  Ultimately, this person has nothing to do with my everyday life and I should not make their opinion so important that it colors my world into gray.
Point 4 – I know nothing of the Noble Eightfold Path but I do know that choosing not to suffer and learning the skills to live in a non-suffering way is a journey!  You pick up one skill at a time and practice that until it feels less hard and then you are ready for another one.  Each time you practice a higher thought process you learn something about yourself and the process.  And you trust the process a bit more.  Berating yourself for not handling the process better does not help.  You must accept that you chose only to suffer a day this time and that is better than the three days you suffered last time.
So, in the midst of my suffering, while I was wiping away the tears of hurt, indignation and pride, I remembered to breathe.  I say that a lot — breathe, breathe.
The very act of taking a conscious deep breath connects my mind and body.  By taking another one, I feel my body settle into that place I know is safe and firm.  The anxiety leaves me and my feet start to feel very planted in Spirit/God.  Another breath, and I feel connected to my higher self.  From this higher place, in the calm state that simply breathing deeply has provided, I am able to see/claim that this hurt is not mine to carry.  I am able to have perspective and even understanding.  I feel the suffering slipping away as quickly as it came to me.
My father says "forgive but never forget!"  I always laugh at him when he says this because I couldn't possibly carry around all the perceived slights in my lifetime — nor do I want to.  But there is some truth here.  It is our work to discern what comments/feedback are said to help us wake up and realize that we're not showing up as we want to, versus the ones that are just thrown out there to wound.  Besides, forgiving is a much harder requirement.  Forgiving means no chip on your shoulder, no what ifs, no plans for future action.  Forgiveness is that I understand that you are human making your way on your path and our paths intersected and that I'm not going to knock you down just because I can.
Meanies are just part of this earthly experience.   Take a moment to recognize that the experience of a meanie hurt — temporarily.  You don't need to suffer it over and over and over again.  Move on.  Claim the higher perspective.  Wipe away your tears and breathe.  Claim the joy in a good day.  Because they all are good days, even if there are meanies in them.